Table Tennis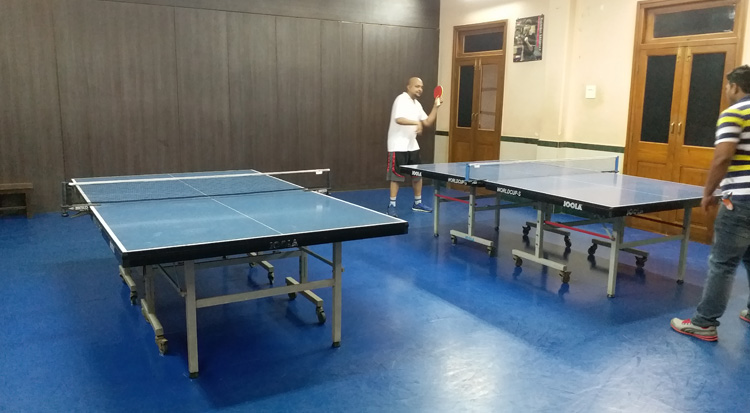 Table Tennis can be classified as a major sport worldwide, with millions of participants, major tournaments(with its own superstars), and many other things that make a sport truly a class of its own. Table tennis truly is a sport for the masses, and its widespread adoption around the world is a testament for its versatility.

Indian Gymkhana enabling annual Membership costs to be kept at very reasonable levels, with facilities being maintained to a high standard and regularly upgraded.

Since 1988, table tennis has been an Olympic sport which includes four events. From 1988 until 2004, the events were men's singles, women's singles, men's doubles and women's doubles. Since 2008 the doubles have been replaced by the team events. We wish to prepare our students able to participate in global tournaments successfully and we are sure that soon we will achieve our targets.
NOTE:

1. COURT BOOKINGS/ GUEST FEES SHOULD BE PAID IN ADVANCE AND THERE WILL BE NO REFUND AT ANY COST.

2. WHERE AT ANY TIME COURT BOOKING EXCEEDS BY 15 MINUTES, 50% EXTRA CHARGES PLUS GST WILL HAVE TO BE PAID. IF THE COURT BOOKING EXCEEDS BY HALF AN HOUR, AN EXTRA HOURLY CHARGES PLUS GST WILL BE LEVIED.

3. WHERE AT ANY TIME A GUEST MEMBER EXCEEDS HIS HOURLY TIME, HE WILL HAVE TO PAY FOR THE NEXT HOUR.

4. GST WILL BE LEVIED AT THE APPLICABLE RATES. (CURRENTLY 18%)

5. THE COURT BOOKING/GUEST FEES RECEIPT SHOULD ALWAYS BE KEPT HANDY AND SHOULD BE PRODUCED ON DEMAND BY THE AUTHORISED PERSONNEL.

6. COURT BOOKINGS/ GUESTS SHALL BE ALLOWED AT THE DISCRETION OF THE MANAGEMENT AND AS PER THE TIMINGS AS DECIDED BY THE MANAGEMENT.
Enrollment Form

>