Badminton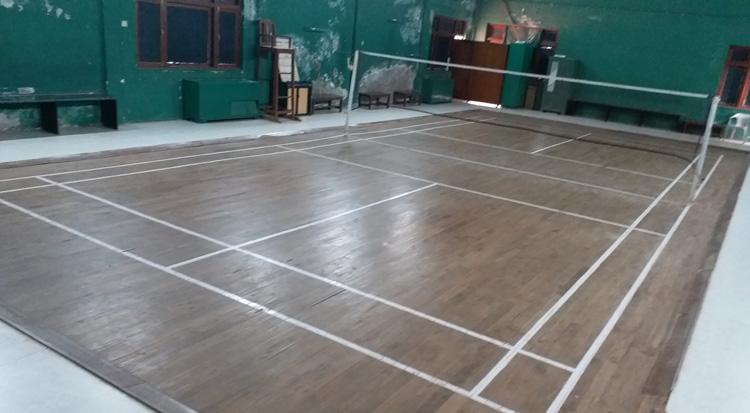 Badminton facilities have sophisticated facility requirements unique to the game. The important facility elements are the flooring, the lighting and the ceiling. We studied numerous badminton courts , meticulously researched all aspects of badminton gym / court construction, prototyped and vigorously tested our design ideas such as lighting and floor material, and built the courts at our Gymkhana. We, our friends, and our next generation badminton players think these are the best badminton courts in the area. Indian Gymkhana badminton facility dedicated to kids and badminton players in our community. Badminton is a great year-round sport, for kids and adults of all ages. Our goal is to build the best badminton club in this area – for playing the most exciting games, for making new acquaintances in the player community, and for promoting badminton in our community.
NOTE:

1. COURT BOOKINGS/ GUEST FEES SHOULD BE PAID IN ADVANCE AND THERE WILL BE NO REFUND AT ANY COST.

2. WHERE AT ANY TIME COURT BOOKING EXCEEDS BY 15 MINUTES, 50% EXTRA CHARGES PLUS GST WILL HAVE TO BE PAID. IF THE COURT BOOKING EXCEEDS BY HALF AN HOUR, AN EXTRA HOURLY CHARGES PLUS GST WILL BE LEVIED.

3. WHERE AT ANY TIME A GUEST MEMBER EXCEEDS HIS HOURLY TIME, HE WILL HAVE TO PAY FOR THE NEXT HOUR.

4. GST WILL BE LEVIED AT THE APPLICABLE RATES. (CURRENTLY 18%)

5. THE COURT BOOKING/GUEST FEES RECEIPT SHOULD ALWAYS BE KEPT HANDY AND SHOULD BE PRODUCED ON DEMAND BY THE AUTHORISED PERSONNEL.

6. COURT BOOKINGS/ GUESTS SHALL BE ALLOWED AT THE DISCRETION OF THE MANAGEMENT AND AS PER THE TIMINGS AS DECIDED BY THE MANAGEMENT.
Enrollment Form

>