President's Message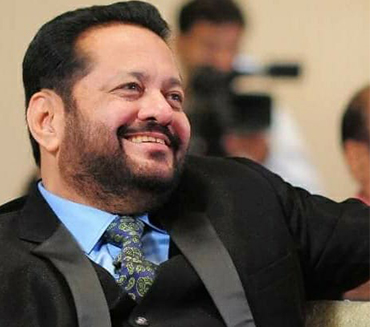 Greetings Dear Friends,

"One of the paradoxes of life is that being impatient often makes it harder to achieve something. As with any skill, you get better at manifesting the more you practice with patience".

At the outset, on behalf of the Managing Committee, I wish to sincerely convey our sincere thanks to you for having continued to repose your unstinted support, trust and faith in us, by your matured understanding of the unexpected problems and issues being encountered whilst overcoming the ongoing redevelopment of our Gymkhana.

It is rightly said that "Patience is bitter but its fruit is sweet", be that it may, despite the frustrating and agonizing delays, the silver lining is the fact that eventually there is a very great possibility of getting an additional FSI, wherein, the whole infrastructural plans can be up scaled and additional facility can be created. This is an unexpected BONANZA for us!

Independent of the above certainty, the fact is that we have no choice nor any other alternative but to await the final clearances from BMC on account of Road set back formalities and the Trees issue, which has been consuming unexpected time. The delay is from the other side, as we have complied with all requirements, and now, finally we can see light at the end of the tunnel.

Be rest assured that all permissions and approvals are on hand, and once the Road set back formalities are completed [any moment now] along with the Tree issue, work will begin in full swing to complete the whole project, and, we are confident that the final outcome and shape of the project will be a true testimony to your patience and our perseverance. For, it is only with patience and understanding coupled with perseverance, that you make progress.

We owe it to Mr. Ashish Sheth, Mr. Krishnan Muthukumar and Mr. Jatin Cheddha for their relentless pursuance and perseverance in ensuring compliance and meeting all legal requirements to ensure that all permissions and approvals are obtained, and, for the nerve wrecking follow up to expedite the Road Set Back and Tree issue. Since they believe that "Patience and perseverance have a magical effect before which difficulties disappear and obstacles vanish. How true!

Swimming pool is complete and ready, once the Road set back and tree issue is resolved and we will get to know about the additional FSI, then only we will be able to build state of the art change rooms, shower areas and other infrastructural requirements to make the swimming pool fully operational.

With the promise and hope of the tree issue being settled, a.s.a.p., by the concerned authorities, we have started the work on the Tennis and Basketball courts, but, again due to possibility of additional FSI coming our way, for which we will alter certain plans, and, also on account of other unforeseen circumstances with regards to tree issue, the work will commence in full swing in due course.

The work on Membership card was completed some while ago and a good membership data base has been created, and many members have already collected their membership cards.

Whilst the redevelopment activity continues to be of paramount importance, we have ensured that other sporting faculties have not being impacted. All sports activities inside the club house and also some of the outdoor sports activities have been successfully conducted and continues with much ado.

Volleyball tournament drew good crowds and was organized very well. Chetan Shah, Jatin Cheddha and others did well to collect good number of entries and organized the tournament in a successful manner.

It was creditable that even Bridge tournament was held in a very professional manner. The response from the participants was very encouraging. Great efforts were put in by Mr. S. Ramadas, Dr. Sunil Desai, Mr. S.V. Iyer and other from Cards section.

The annual event of the Cricket section, i.e. Ex-Cricketer's Meet, was held in a usual manner. Mr. K. Satyamurthy, the driving force behind Cricket section, was able to get around senior cricket members and their families, which resulted in creation of memorable nostalgic moments. Traditional South Indian Lunch was severed to all present. There was a good bonhomie amongst the gathering and it was really satisfying to see such a positive, happy and cheerful atmosphere prevailing in our Gymkhana.

Our Fitness Centre 'SPARTA' has been doing well and there has been a consistent flow of members who have been utilizing this facility with satisfaction. I would appeal to members, who have not yet enrolled for the Fitness Centre may please do so and also promote the same in their circle.

I would like to thank all those who have directly or indirectly helped the gymkhana in conduct of various events and tournaments. Mention must be made of our Treasurer Mr. M. Kalahasthi who has been monitoring the finances exceedingly in a water tight and well controlled manner, exercising due diligence and checks to ensure that total transparency is maintained and accounts are kept in a professional and proper manner.

Also, I would like to applaud the great work put in by Mr. Ashish Sheth, who has been relentlessly pursuing the redevelopment and also chipping in with very vital inputs in the overall administration of the Gymkhana along with Mr. Krishnan Muthukumar, and, all committee members for their rock solid support and understanding. Mr. Jatin Cheddha, too, has been constantly assisting in various capacities, and providing good support.

I would also like to thank each and every member for the trust and confidence reposed in the committee and for the unstinted support.
"One moment of patience may ward off great disaster. One moment of impatience may ruin a whole Life"